Beef Tenderloin Roast with Caramelized Onions and Shiitake Mushrooms
This easy recipe from Russell's in Bothell for Beef Tenderloin Roast topped with rich caramelized onions, shiitake mushrooms, and beef demi-glace is ready to pair with our WIT Cellars Cabernet Sauvignon is just about one hour and well worth the wait.
We feel like this is the best vintage yet! This is a bright, clean, and refreshing Cabernet. Notes of raspberry, chocolate, blueberry, and violets play together in the nose. Cocoa powder, pepper, along with the juicy fruit are in perfect balance with tannin and lovely oak integration.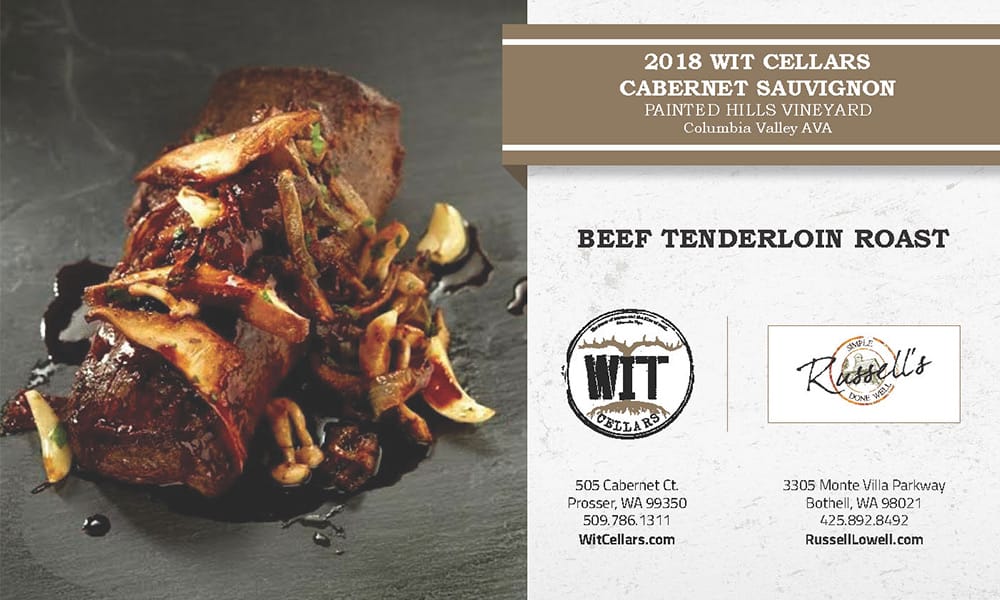 Beef Tenderloin Roast with Caramelized Onions & Shiitake Mushrooms
Ingredients
24

oz

Beef Tenderloin Roast

1

Walla Walla Sweet Onion

Chopped

1/4

c

Shiitake Mushrooms

3

cloves

Garlic

1

Bay Leaf

Black Peppercorn

3

Sprigs Fresh Thyme

1

c

Red Wine

Inexpensive

32

oz

Veal or Beef Stock

2

tbsp

Butter
Instructions
Beef Tenderloin Roast
Preheat oven to 300 degrees.

In an oven-safe pot, sear desired protein until browned on all sides.

Add onion, garlic, bay leaf, peppercorn, thyme, and red wine.

Cook fortwo minutes and then add the veal or beef stock. Cover with a lid orfoil and put in the oven for 45 minutes to an hour.

Pull out of oven,rest meat on a tray and reduce braising liquid until nape (thick enoughto coat the back of a spoon without running off).

Strain the liquid andwhisk in the butter.
Carmalized Onions & Shiitake Mushrooms
Slice onion and sauté on medium/low heat until caramelized, aboutten minutes. Turn up the heat to a med/high and add the mushrooms.Sauté mushrooms for three minutes.

Serve the sliced tenderloin on caramelized onions and shiitakemushrooms and top with veal or beef demi-glacé.