Crockpot Meatballs with Grape Jelly Sauce
2020 Cabernet Sauvignon
Crafted from the renowned Olsen Vineyards. This exceptional wine boasts a rich tapestry of flavors, with notes of black tea and cherry cola dancing on your palate. Its velvety texture provides a smooth, luxurious mouthfeel, while its elegant tannic structure adds depth and character. The experience culminates in a lingering finish that leaves a lasting impression. Explore
the essence of sophistication and indulge in the artistry of this remarkable Cabernet Sauvignon.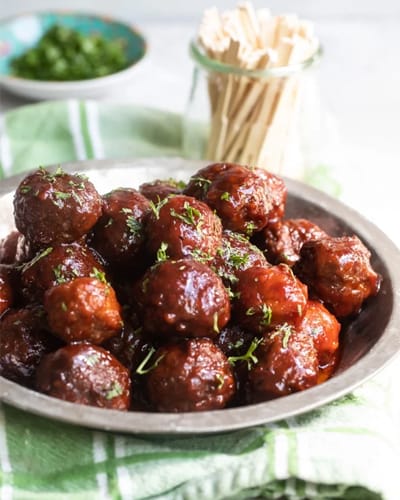 Crockpot Meatballs with Grape Jelly Sauce
The easiest party appetizer on the planet is also the most delicious. Crockpot Meatballs with Grape Jelly Sauce is a lifesaver for hungry crowds and cocktail parties, so make a double batch!
Ingredients
1

bag

Frozen Fully-Cooked Meatballs

(32 ounce bag). You can use homemade meatballs also.

12

oz

Chili Sause

10

oz

Grape Jelly
Instructions
Add frozen meatballs to crockpot. Add chili sauce and grape jelly. Cover and cook for 2 to 3 hours on HIGH or 4 to 6 hours on LOW, until the sauce is hot.

Serve directly from the crockpot with a serving spoon or toothpicks, or transfer to a serving dish.