Pot-Roast Chicken Cooked in Herby Crème Fraîche
2020 Cabernet Franc
This vintage we switched to mostly concrete aging for our Cabernet Franc. The result is a rustic-style wine with minerality and more nuances. Going to mostly concrete allows the fruit to be the shining star-which includes hints of blackberry and cherry. The bright acidity, silky tannins and lingering finish round out this pretty wine.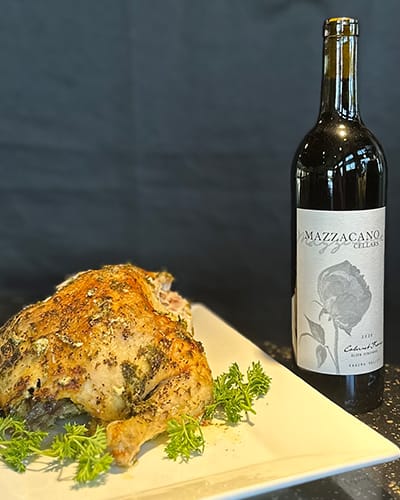 Pot-Roast Chicken Cooked in Herby Crème Fraîche
A really lovely, summery way of cooking roast chicken from Olia Hercules beautiful new book Summer Kitchens.
Olia writes: "Chicken smothered and baked in cultured cream is an old classic, but sometimes I like to go one step further. I use a lot of herbs at home, and sometimes I am left with quite a few stalks: dill, parsley, basil and coriander stalks all work well when stirred into the crème fraîche. By the time the chicken is cooked, this turns into the most amazing sauce.
I like serving this with chunks of good bread and boiled cabbage or the cabbage and cucumber salad, but it would also be lovely with new potatoes or a buttery lemon rice pilau. Any leftovers are delicious stirred through hot stubby pasta."
Ingredients
150

ml

Crème Fraîche

25

g

Dill and/or Parsley or Their Stalks, Roughly Chopped

4

Garlic Cloves, Roughly Chopped

1

tbsp

1 tbsp Rapeseed Oil

1

Large Chicken

1.4

kg

Sea Salt and Black Pepper
Instructions
Blitz the crème fraîche, herbs, garlic and a generous pinch of salt in a food processor until smooth. Taste, and add more salt if needed, and some pepper.

Pour the oil into a roasting tin, add the chicken and spread the herby crème fraîche all over it, inside and out. If you have time, cover and leave to marinate for a couple of hours at room temperature, or in the fridge overnight.

Preheat the oven to 200°C/Fan 180°C/Gas Mark 6.

Cover the chicken loosely with foil and roast for 45 minutes, basting it a couple of times, if you remember. Take off the foil and cook for another 15–20 minutes, or until the legs come away from the body with ease and the juices run clear from the thickest part of the thigh when it is pierced with the tip of a knife.

Take the chicken out of the oven and let it rest for 5–10 minutes. Pull the tender meat from the bones with two forks and mix through the roasting juices, then serve.