2020 Mazzacano L'Armonia
L'Armonia means harmony in Italian, and names this Super Tuscan which is a blend of Cabernet Sauvignon and Sangiovese. A lush wine that boasts a savory mouthfeel, and is nicely framed, with bright fruit flavors of cherry, cranberry, and hints of cedar. A lovely marriage of these two varietals blend together in perfect harmony.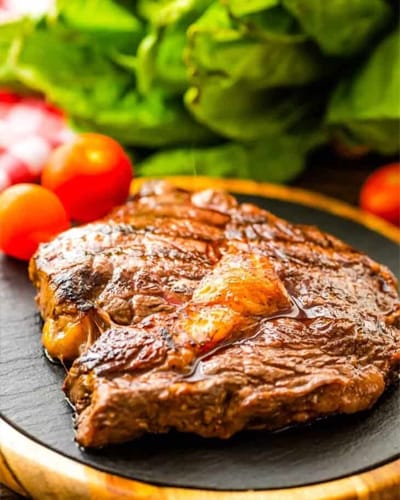 Red Wine Marinated Steak
Red Wine Steak Marinade is the perfect steak marinade recipe to use with all your steak when grilling if you love red wine! It adds a subtle hint of red wine flavor without being overpowering. It's easy, delicious and makes the perfect juicy steak! Red wine and steak is a classic combination and now you can incorporate that amazing flavoring in your marinade!
Ingredients
1

c

Red Wine

2020 L'Armonia

1

Tbsp

Soy Sause

1/4

c

Olive Oil

1

tsp

Kosher Salt

1

tsp

Ground Black Pepper

2

tsp

Minced Garlic

1

tsp

Onion Powder

1 1/2

lb

Steaks
Instructions
In a small bowl whisk all the ingredients except the steak.

Add steaks to a resealable zip lock bag or large bowl and pour the marinade over the top of the steak. Squeeze as much air out of bag as possible and seal.

Marinate for at least 2 hours or overnight.

To make steaks in skillet: Turn heat to high and let preheat a few minutes until skillet is hot. Place steaks in skillet. Cook each side for 3 minutes. Reduce heat to medium-high. Cook steaks to the desired doneness, flipping as needed. It will take about 10 minutes depending on thickness of steaks. I prefer mine to be about 145 degrees which is medium.

To make steaks on the grill. Preheat grill to medium-high. Place steaks on grill. Cook 4-6 minutes per side or until the internal temperature reaches at least 145 degrees F for medium.

Let steaks rest 3 minutes before serving.
Tips
Remove steaks from the refrigerator and let them come to room temperature while you prep the grill. This will help you get an evenly cooked steak, otherwise the outside of the meat will cook faster than the inside.

Before placing the steaks on the grill make sure it's very hot and the oil is grated.

Monitor the steaks closely as they will cook quickly on a hot grill.

Don't over flip the steak. They should only be flipped once. Use a spatula to flip, if you stab them with a fork it releases their flavorful juices. Don't press them down with a spatula, just flip them.

Make sure you rest the steak after pulling it off the grill for a few minutes. This is one of the most important steps when grilling steaks. It allows the meat to relax and the heat and juices to redistribute.
Internal Temperature of Steak
If you are looking for a rare steak you will want the internal temperature to be 120 – 125 degrees F.

Medium is cooked to 135 degrees to 145 degrees F.

If you want a well done steak it is cooked to 155 degrees or hotter.

We aim for a steak around 135 degrees!

Remember that the temperature will rise another 3-4 degrees F while it rests after cooking so factor that in.
How long should you let steak marinade?
This all depends on how strong you want the marinade to taste. It's a good rule of thumb to let your steak marinate for a minimum of 2 hours but most let it sit overnight to allow that flavor to really soak in.