Italian Sausage Bolognese
Rich and delicious, just like our L'Marmonia, this Italian Sausage Bolognese will leave you begging for more!
2019 Mazzacano L'Armonia
L'Armonia means harmony in Italian, and names this Super Tuscan which is a blend of Cabernet Sauvignon and Sangiovese. A lush wine that boasts a savory mouthfeel, and is nicely framed, with bright fruit flavors of cherry, cranberry, and hints of cedar. A lovely marriage of these two varietals blend together in perfect harmony.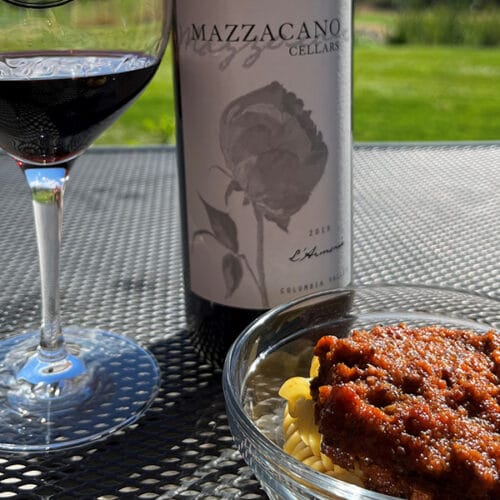 Italian Sausage Bolognese
Ingredients
2

Large

Carrots

2

Celery Stalks

2

Cloves

Garlic

Peeled

1/2

Large

Yellow Onion

2

TBSP

Olive Oil

Extra Virgin

1

lb

Italian Sausage

2

Cups

Red Wine

Hearty

1/2

Cup

Tomato Paste

2-4

Cups

Water

2

Bay Leaves

1/2

Cup

Parmesesan Cheese

Shredded

Salt & Pepper to Taste
Instructions
In a food processor, puree carrots, celery, garlic, and onion until they form athick paste.

In a large saucepan, heat olive oil over medium heat. Addvegetable puree, salt and pepper. Sauté until veggies are cooked and browned,about 10 minutes. You'll deglaze the pan later, so don't be afraid if theveggies stick a bit.

Add Italian sausage to the pan. Break it apart with a spoon or spatula as you cookit and sauté until meat is browned and cooked through, about 8 minutes.

Add tomato paste to the pan. Stir to incorporate the paste withthe other ingredients and cook 1 minute.

Add 1/2 cup of the red wine and stir to break up any clumps ofmeat and veggies. Add the remaining red wine and bay leaves and bring to asimmer.

Cook until red wine has reduced by half, about 10-15 minutes.

Add 1 cup of the water. Bring back to a low simmer and cook untilwater has reduced by half, about 15-20 minutes. Repeat, adding 1 cup of waterand reducing, until you are ready to eat. This is where the flavor reallybuilds – keep adding water and reducing as needed! This is also the right timeto add additional seasoning. When you're ready to eat, reduce the sauce onefinal time until it reaches your desired consistency.

Cook pasta according to package or recipe directions until 1minute less than al dente. Drain, reserving 1/2 cup of the pasta water.

Addreserved pasta water to sauce and mix to incorporate. Top pasta with Bolognesesauce and shredded parmesan cheese and serve immediately